Cappuccino Connections Special Edition
 'Nifty Networking' – Athena's networking version of speed dating
This runs as a completely separate event in the UK and it's fast, furious and fun. If you fancy trying it out and you aren't jet setting off – book now as we need to keep numbers at 25 max for the session to work.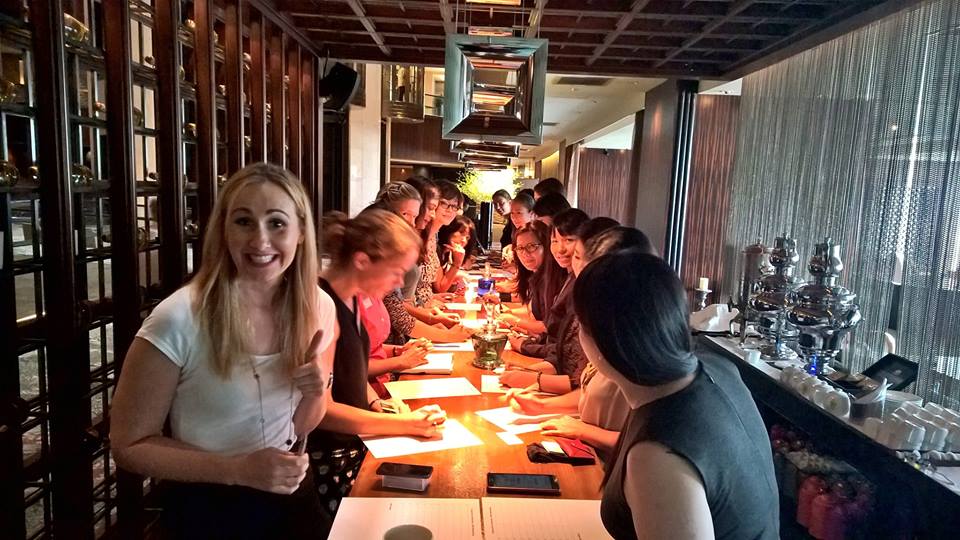 ​How Does It Work?
You will meet a new business contact every 180 seconds, and in just three minutes you will exchange introductions and request one of these A, B or Cs of Nifty Networking:
• Actionable Request
• Business Introduction
• Collaboration Opportunity
You will have the opportunity to share and listen to each person – so that you can see clearly how you can help each other. The session is structured so that you will have time to meet everyone individually!
The Nifty Networking event can help you network smarter in just 90 minutes! Expect your networking skills to grow and your business contacts to increase.
This is a one-off event and an INVALUABLE opportunity to meet and connect with 20 ladies in 1:1 in a single networking session!

About Cappuccino Connections
Cappuccino Connections are sophisticated, informal networking sessions for female executives and entrepreneurs held at the 5 Star Mandarin Oriental Hotel.
Join us and meet fellow professionals and entrepreneurs in a relaxed, business-focused environment. Cappuccino Connections is a great introduction for visitors to experience networking the Athena way!
At each meeting, a speaker shares an inspiring story of their journey as well as relevant tips we can put into practice in our own businesses and careers.
Athena events are attended by talented and highly motivated individuals – their passion, energy and determination to fulfill their business goals make our networking formula truly unique.
Our members attend regular Cappuccino Connections meetings to build a portfolio of quality business contacts and for a dose of monthly inspiration!
Agenda
10:00am Please arrive for registration 
-Open networking
-Welcome and introductions
-Athena Aims
-Who's in the room?
-Speaker
-Community News & Events
12:00 Close and open networking
Investment
$30 (including tax and service)
Fees charged will be passed directly to the venue to cover the cost of free-flow teas and coffees.
Benefits of Attending
All of our Athena groups are attended by talented and highly motivated individuals – their passion, energy and determination to fulfil their business goals make our networking formula truly unique.
Women are attracted to Athena because it addresses an often missing ingredient in the networking recipe and they recognise the benefits of networking with Athena:
Increased chances of business success. Face-to-face interactions positively impact your business' success significantly.
More effective online/social media networking. Face-to-face networking makes your online networking and social media more effective. Meet the faces behind your Twitter/Facebook contacts!
Inexpensive way to market. Face-to-face networking is one of the most powerful, effective and cost effective ways to market your business.
Wider circle of influence. Meeting other women will expand your contact list and influence circle which can lead to an increase in business opportunities and referrals.
Knowledge and learning. Network strategy and business development training enables you to maximise your networking activities.
Personal and business growth. The more contacts you make, and the more networking events you attend, the more confident you will feel about your business and yourself.
Who Should Attend?
Executives – from junior to director level, responsible for building a portfolio of quality contacts.
Entrepreneurs – from pre-start up to established companies.
Business owners – small to medium-sized organisations from all industries.
Why Attend?
Join a vibrant and diverse community of women.
Interact with representatives from various industries.
Share best practices, tips, trends and news.
Seek and offer guidance and inspiration for business success.
What can I Expect?
Vibrant, focused and passionate individuals with exciting products, services and ideas.
Welcoming and informative environment, allowing you to network in a way that suits you.
A forum to listen and share your experiences.
Speakers who will openly share their business stories and successes.
---
EVENT DETAILS:
Date: April 26th 2017, Wednesday
Time: 10:00 am – 12:00 pm
Venue: Mandarin Oriental Hotel – Axis Lounge & Bar
Fee: $30 for members & first-time visitors
Book now for this unique Athena experience!
We are very much looking forward to welcoming you!