Athena Cappuccino Connections
Cappuccino Connections are sophisticated, informal networking sessions for female executives and entrepreneurs held at the 5 Star Mandarin Oriental Hotel.
Join us and meet fellow professionals and entrepreneurs in a relaxed, business-focused environment. Cappuccino Connections is a great introduction for visitors to experience networking the Athena way!
At each meeting, a speaker shares an inspiring story of their journey as well as relevant tips we can put into practice in our own businesses and careers.
Athena events are attended by talented and highly motivated individuals – their passion, energy and determination to fulfill their business goals make our networking formula truly unique.
Our members attend regular Cappuccino Connections meetings to build a portfolio of quality business contacts and for a dose of monthly inspiration!

This month's topic: The Chill Mom Journey
Michelle is a true believer that entrepreneurship can rhyme with a healthy work-life balance. Addressing the professional successes and challenges that she has faced over the years, and what has led her to recently become a "dengue-ambassador", Michelle will share her personal journey as a dynamic momtrepreneur.
This Month's Speaker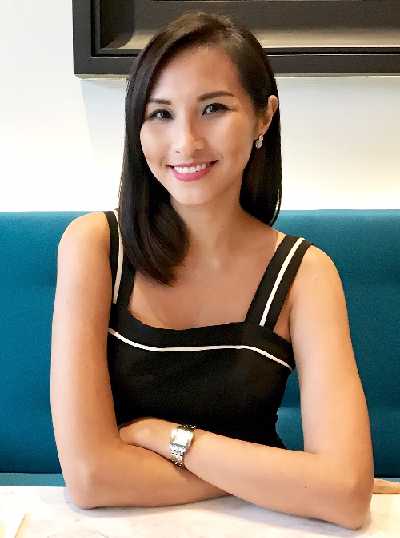 Michelle Hon, The Chill Mom
Michelle is a mother of three, an international model turned entrepreneur, who now runs her own maternity concierge consultancy business. Her blog, The Chill Mom, perfectly complements her business as she shares about motherhood in a fun and informative way. Due to the uniqueness of what she does, Michelle has been featured on various magazines like Harper's Bazaar and The Asian Entrepreneur, and was also featured as a pregnant style expert on Channel 5 Singapore's, 'Man Birth', in 2016. She also has a new book scheduled to launch by the end of the year – The Chill Mom: Secrets to an enjoyable pregnancy and confident motherhood.
In addition to all her existing titles, Michelle is engaged in the community and has recently taken-on the role of "dengue-ambassador". Having herself contracted the disease in 2016, Michelle can attest to the crippling impact that a mosquito-borne illness can have on your both your family, and business obligations. She has since made it one of her missions to prevent as many people as possible from contracting this painful infection.

Agenda
10:00am Please arrive for registration 
-Open networking
-Welcome and introductions
-Athena Aims
-Who's in the room?
-Speaker
-Community News & Events
12:00 Close and open networking

Investment
$30 (including tax and service)
Fees charged will be passed directly to the venue to cover the cost of free-flow teas and coffees.

Benefits of Attending
All of our Athena groups are attended by talented and highly motivated individuals – their passion, energy and determination to fulfil their business goals make our networking formula truly unique.
Women are attracted to Athena because it addresses an often missing ingredient in the networking recipe and they recognise the benefits of networking with Athena:
Increased chances of business success. Face-to-face interactions positively impact your business' success significantly.
More effective online/social media networking. Face-to-face networking makes your online networking and social media more effective. Meet the faces behind your Twitter/Facebook contacts!
Inexpensive way to market. Face-to-face networking is one of the most powerful, effective and cost effective ways to market your business.
Wider circle of influence. Meeting other women will expand your contact list and influence circle which can lead to an increase in business opportunities and referrals.
Knowledge and learning. Network strategy and business development training enables you to maximise your networking activities.
Personal and business growth. The more contacts you make, and the more networking events you attend, the more confident you will feel about your business and yourself.

Who Should Attend?
Executives – from junior to director level, responsible for building a portfolio of quality contacts.
Entrepreneurs – from pre-start up to established companies.
Business owners – small to medium-sized organisations from all industries.

Why Attend?
Join a vibrant and diverse community of women.
Interact with representatives from various industries.
Share best practices, tips, trends and news.
Seek and offer guidance and inspiration for business success.

What can I Expect?
Vibrant, focused and passionate individuals with exciting products, services and ideas.
Welcoming and informative environment, allowing you to network in a way that suits you.
A forum to listen and share your experiences.
Speakers who will openly share their business stories and successes.

EVENT DETAILS:
Date: August 23rd 2017, Wednesday
Time: 10:00-12:00 (please arrive at 10am)
Venue: Mandarin Oriental Hotel – Axis Lounge & Bar 6 Raffles Boulevard #01-01/02/03 Marina Square
Singapore, 039594
Fee: $30 for Members & first-time visitors
We look forward to welcoming you!
Book now for this unique Athena experience!
For more information about Athena please visit our homepage
and join our Facebook Community of over 26,150 members!